The 6 best looks from Bridgerton Season 2
10/05/2022
If you watch Bridgerton, one thing is for sure: you'll be blown away by all of the gorgeous costumes. Recently released on Netflix, the second season of the show is no exception to the rule, as the Sharma sisters excel in the art of dressing well! Here are 6 wonderful looks.
Kate Sharma's bi-material dress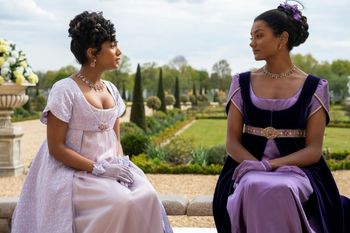 Bridgerton's Season 2 gave the Sharma sisters a great stage! At the heart of this chapter, while being Anthony's heartbreakers, Kate and Edwina brought a unique touch of fashion. Special mention for Kate, always beautifully dressed in blue, purple or pink. From the closet of Simone Ashley's character, it's her bi-material dress made of silk and velvet that caught our attention. With sleeves that look like roses hemmed in gold, a double neckline and a double-dress effect, everything in this outfit is inspiring for the fashionistas.
Anthony Bridgerton's horse riding outfit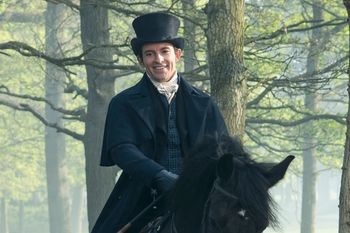 While it is difficult not to be amazed by the Ladies' outfits, the Lords are not left out. Hero of this season, Anthony Bridgerton has also shown some nice fashion skills. Especially during his morning horseback ride for which he wore his top hat and beautiful coat. According to Sophie Canale, costume designer for the Shondaland-signed series, Anthony Bridgerton's maturity and new position in society is now reflected in his outfits. "He's much more serious and is taking his role as head of the Bridgerton family," she explained, offering him more darker and elegant clothes.
Eloise Bridgerton's debutante look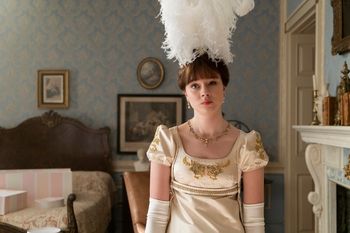 Eloise Bridgerton is making her debut on the show! As Queen Charlotte is set to elect this season's diamond, Eloise makes her appearance. While the young girl feels uncomfortable and doesn't want to draw attention, her dress, on the other hand, is enough to make people turn around as she walks by. Beige with golden embroidery, Eloise's dress has small balloon sleeves highlighted by long silk gloves and a pretty train. Some may be more doubtful about her feather headdress... Regardless, Eloise is incredibly elegant!
Edwina Sharma's wedding dress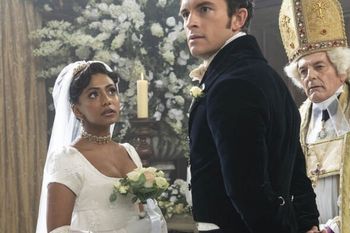 Although Edwina Sharma's wedding may not end the way she imagined, her wedding dress alone was worth it. With a highlighted waist, typical of dresses of the time, Edwina's dress is made of delicate flower embroidery. The cut of the dress is rather simple with a slightly square neckline. And the accessories are only adding a little grace and distinction to this season's diamond! Failed wedding, yes, but absolutely successful outfit!
Queen Charlotte's bold look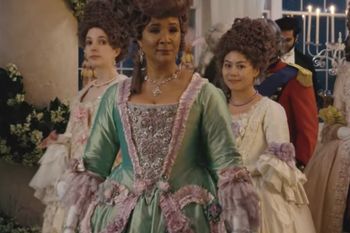 It's impossible to highlight the best looks from Bridgerton's Season 2 without mentioning at least one look of Queen Charlotte. Every season, the character played by Golda Rosheuvel appears in outfits as gorgeous as they are bold. This season, it's the Queen's pink and green dress that caught our attention! Sublimated by a crazy pink wig, this outfit catches the eye: mint green, pastel pink, embellishments, tulle, ruffled sleeves... This dress is like the Queen: outstanding!
Kate's ball gown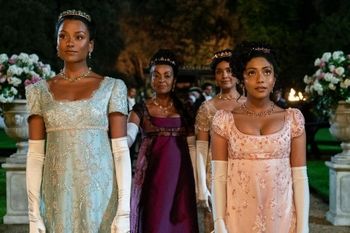 It's hard to pick just a few fashion looks to highlight the Bridgerton's team creativity this season… However, our final outfit on this list has to be Kate Sharma's ball gown! The Sharma sisters' outfits are all about discretion, and this dress worn by Kate proves it. Although it is embroidered with pearls and highlighted with lace, this dress shines by its simplicity. A pretty pastel blue, a touch of white, pearls and embroidery in silver tones; Kate's entrance into London society is done with great style.
Quick access
About us
Originally created by Prince Rainier III of Monaco, and now under the Honorary Presidency of H.S.H. Prince Albert II of Monaco, the Monte-Carlo Television Festival has become the The Not-to-be-Missed TV event for the entire television industry.

Our contacts
Le Triton, 5 rue du Gabian, entrée C
98000 Monaco