Sanitary measures
In order to ensure the protection of its participants during their stay, the Festival is committed to put in place numerous sanitary measures, in collaboration with all its partners.
These measures are subject to change.
Last update: 15/04/2022
By plane
Nice Côte d'Azur airport has implemented a wide range of actions to strengthen the sanitary quality of its terminals and operations, with priority given to the safety of its passengers.
See all measures on the official website.
By train
The rules that are applicable in the Monaco train station are identical to those applicable in areas open to the public in Monaco and in French stations, i.e. social distancing and wearing a mask are mandatory in stations and on trains.
By bus
Transdev transport, which operates the A110 shuttle bus between the airport and Monaco, has adapted its regulations in order to guarantee the safety of its passengers and employees.
See all measures on the official website.
Festival Protocol
The Monte-Carlo Television Festival, an entity of Monaco Mediax, respects the Health Charter validated by the DASA (Monaco Health Division).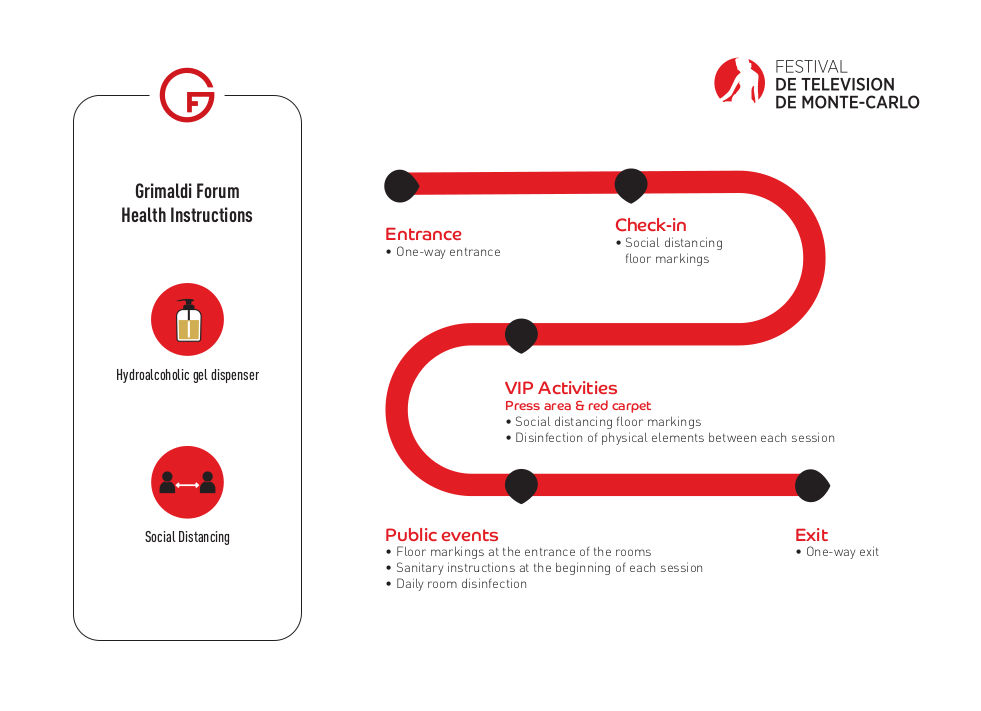 Protocol with the Festival partners
The Convention Center - Grimaldi Forum

The Grimaldi Forum Monaco has been awarded the Monaco Safe label.
Monaco Safe is the Monegasque Government's label aimed at guaranteeing visitors to the Principality optimal health conditions in all places open to the public.
Since 14 March 2022, a health pass is no longer required.
Our hair and make-up artists respect an appropriate sanitary protocol:
Face visor and mask are mandatory for all makeup artists and hairdressers in all areas of beauty treatments of the Festival (transparent masks and faceshields are not allowed)

Material disinfected between each beauty service

Hand disinfection before and after each beauty service

Regulatory space of a minimum of 2 meters between each dressing table in the beauty area but also in the Cool/Bay & So/B salon of the Monte-Carlo Bay

Disinfection of the dressing table, chairs and workspace between each beauty service

Provision of sterilized bags of make-up applicators to each artist. The sachet will be opened in front of each guest

Provision of virucidal soaps, hydro-alcoholic solutions/gels and disinfecting wipes for guests during the beauty services

All make-up artists and hairdressers will be submitted to a PCR test before participating in the Festival.
If you use the Festival transport service, a strict sanitary protocol is in place:
Inform customers in advance of the sanitary measures to be observed on board

Display all health information and in particular the information sheet on barrier measures and face masks (transparent masks and faceshields are not allowed)

Wearing a mask is compulsory for the driver and for passengers, except for children under 5 years old (transparent masks and faceshields are not allowed)

Provide hydro-alcoholic products to staff and passengers

Put a protective screen in the driver's cabin, if possible

Respect the usual rules of hygiene and in particular frequent hand washing and/or disinfection with a hydro-alcoholic product

Carry out maintenance and disinfection of air-conditioning systems using specific self-impacting disinfectant sprays

Wipe or use virucidal disinfectants on surfaces handled by passengers: repeat as often as necessary: Seats and armrests, keys, belts, passenger compartment, doors and handles

Perform a complete cleaning and disinfection of each vehicle every evening

Regular ventilation of the vehicle.
Do you need more information?
Quick access
About us
Originally created by Prince Rainier III of Monaco, and now under the Honorary Presidency of H.S.H. Prince Albert II of Monaco, the Monte-Carlo Television Festival has become the The Not-to-be-Missed TV event for the entire television industry.

Our contacts
Le Triton, 5 rue du Gabian, entrée C
98000 Monaco