The 6 best looks from Euphoria Season 2
12/04/2022
Several weeks after Euphoria Season 2 finale, fans still haven't been able to fill the void left by the ending of the series starring Zendaya. To keep living a little bit in the show's vibe, let's go back to 6 looks that definitely stood out this season.
Maddie's New Year's Eve look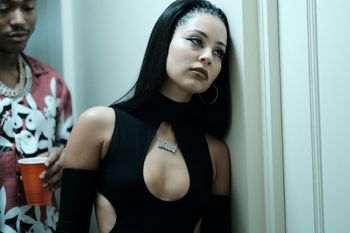 In Euphoria's first episode of Season 2, we dive into the craziness of a New Year's Eve party - a great opportunity to show off, once again, some great looks! Of course, Maddie is no exception to the rule and delivers one of the most memorable looks of this second chapter. With a tight cut out dress (enough to let her skin show), her hair slightly braided for a 2000's style, a jet black comma at the corner of her eyes and long gloves, Maddie does it right. As a matter of fact, her dress was sold out in no time!
Cassie's "Oklahoma" look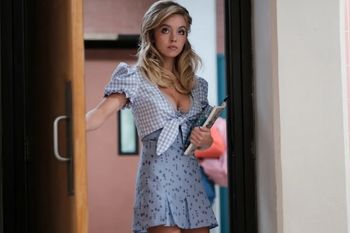 To impress Nate, Cassie will do anything - like getting up at 4 am every day of the week. Her ritual is endless and goes through the makeup and look routine, every day. One morning, she arrives at school wearing a blue floral mini-dress and an equally small checked jacket. Hair puffed up like from another time, eyes ringed with pastel blue and nude lips, Cassie shows that when it comes to fashion, she doesn't shy away. Whether it's the pattern combinations or her audacity, everything made this scene a great fashion moment!
Lexi's plaid dress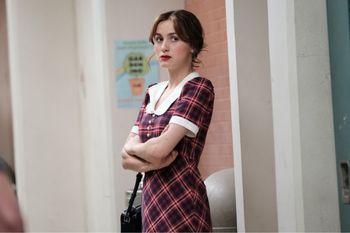 More withdrawn in Season 1, Lexi got a major upgrade in this new chapter - which made Maude Apatow's fans quite happy! On the fashion side, it also got better and better. Our favorite look goes to this Miu Miu plaid mini dress that the young high schooler wears with elegance. On the makeup side, everything remains as pure as she is: a simple mascara delicately put on her lashes and red lips. One thing is for sure, Lexi's look is drastically different from the extravagances orchestrated by Donniella Davy, beloved makeup artist of the series.
Kat's printed look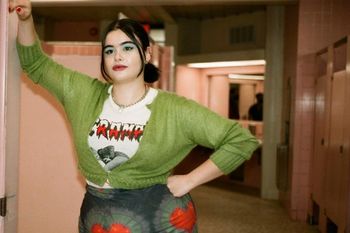 Almost absent from this new season of Euphoria, Kat remains a nice source of inspiration for anyone who loves fashion. Queen of printed designs, Kat combines a letterpress t-shirt with a radical skirt. A combination of green and red highlights that makes fashionistas all over the world eager to copy her. Special mention for her sky-blue makeup and hairstyle that takes us back to some embarrassing moments of childhood!
Eliott's normcore look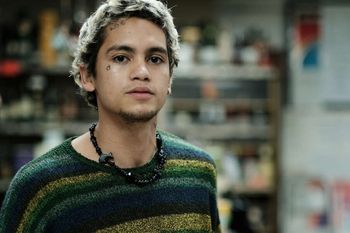 Why not mention the boys of Euphoria who also benefit from a very special fashion treatment! This time, let's celebrate Eliott's normcore look. Newcomer to the Euphoria cast, Dominic Fike's character has that "disillusioned teenager who doesn't care about his look" quality. However, nothing is left to chance in the show and Eliott's look proves it! Special mention for this striped sweater, slightly oversized, which seems to be straight out of a thrift shop.
Maddie and Cassie's coordinated looks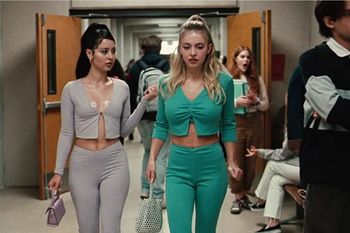 Let's end this (small) overview of Euphoria's best looks with the comeback of the most trendy uniform of the 2000s: the coordinated outfit. In the same style of the peachy-soft outfits democratized by icons of the time like Paris Hilton, the two girls arrive in the high school corridors in tight pants and coordinated mini tops. Only the colors and the intentions are different! A vintage look totally updated by the series that definitely reflects its time.
Quick access
About us
Originally created by Prince Rainier III of Monaco, and now under the Honorary Presidency of H.S.H. Prince Albert II of Monaco, the Monte-Carlo Television Festival has become the The Not-to-be-Missed TV event for the entire television industry.

Our contacts
Le Triton, 5 rue du Gabian, entrée C
98000 Monaco